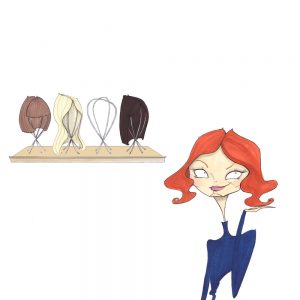 When writing my book, Pretty Sick: The Beauty Guide for Women with Cancer, I was struck by one thing I heard from almost every oncologist I interviewed – that the most common question patients asked after learning they would need chemotherapy was, "Will I lose my hair?"
There is no question that hair defines who we are. It not only helps showcase our looks but it helps chronicle the milestones of our lives. Just take a look at your prom picture and you'll know exactly what I mean. It's also a built-in security blanket. A certain cut or color can project to the world what we want it to see us as. It's transformative.
I remember the first time I cried after my diagnosis was when I learned that I would lose my hair. I sobbed uncontrollably. It wasn't that I was so concerned about my looks. It was that losing my hair made me grasp the magnitude of my diagnosis.
Facing hair loss during treatment is sad and scary. But it's important to remember one thing: hair loss is temporary. I don't say that to sound trite but it's imperative to find the silver linings when battling cancer. One way to do that is to find a wig that makes you feel fabulous again.
But here's the thing: there is a lot of information out there about wigs and a lot of different wigs to choose from. I'm going share the most important things to consider when shopping for your wig.
Try to go shopping for your wig while you still have hair, if possible. This will allow the stylist to see your natural hair and help you find a wig that mimics it the closest.
Bring only one or two close friends or family with you. And make sure they are the ones who will tell you the truth. If you bring an entourage of friends, you stand the chance of leaving with a blonde stripper wig.
Know your budget before you go shopping. Insurance will throw a few bucks in – so know what that number is ahead of time as it will help steer your wig choice. My insurance gave me a budget of $200. Some insurance companies offer coverage or an allotment for something called "durable goods," that includes items like oxygen, hospital beds and, in some cases, even wigs. Check your insurance plan to see if yours does too! A friend of mine was able to get reimbursed for a $5000 real hair wig. It took a year to get that reimbursement – but she got it!
Determine how you plan on using your wig and how often you plan on wearing it. If, for example, you are an on-air TV host, you'll probably need a wig made with real hair. But if you plan on being home most of your recovery or wearing turbans and headscarves often, a synthetic wig will work just fine. Knowing how you plan to use it will help determine exactly what type of wig you need.
Know the Pros and Cons of Real Hair vs. Synthetic wigs. Here is a quick break-down:
REAL HAIR WIGS
Pros:
It can be styled
The part can be switched
It can be cut and colored
Cons:

It requires major upkeep
It can be difficult to style
It gets hot and heavy
It is expensive
SYNTHETIC HAIR WIGS
Pros:
It is easy to maintain
No more bad hair days
It is affordable
Cons:
It can't be styled
It doesn't last
Longer length styles can tangle (opt for shoulder length)
Opt for easy. While real-hair wigs are stunning and generally higher quality there is something to be said for starting with a synthetic wig. Real wigs are a lot of work and when you are sick and have depleted energy – it's the last thing you are going to want to content with. Plus, there are some really gorgeous synthetic wigs that are also really affordable, so you'll be able to get a few and have some fun. If you want to keep your life simple, synthetic is the way to go.
Good luck wig shopping!
XO
Caitlin
…Hello again! If you got all the way down here, then I'm assuming you liked what you read. Good news! There's more where that came from – including snippets of Pretty Sick: The Beauty Guide for Women with Cancer and news relevant to us Cancer Cuties. Go visit and (like!) the Pretty Sick Book FB page!
Pretty Sick is out September 19th, but you can order your copy now! Just click below on the retailer of your choice!