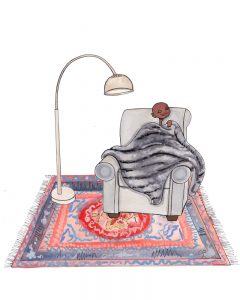 There is no question that having surgery is overwhelming and scary situation. There is so much to take care of leading up to the big day that it can be all consuming. Before my surgery, I had a long "to do" list: getting insurance approvals; putting in my time-off forms; paying the bills; and scheduling the dog sitter – just to name a few things. It was a stressful time.
When it was time to leave the hospital, I realized that I had been so busy preparing for surgery that I didn't even think what came after: the recovery. I was woefully unprepared. I want to save you from making the same mistake. Trust when I say that I don't want to add to your 'to do' list but there are some key essentials you should have/do prior to surgery to ensure a cozy and comfortable recovery. They are:
Get Key Clothing Items:
It was only after my mastectomy when I was still in the hospital that the nurses told me I would need some button down shirts in order to change my bandages. It would have been helpful to have this Intel prior to surgery! The only button ups I owned were starchy oxfords for work. My neighbor Victoria gave me a few of her old shirts but if she hadn't come to my rescue I'm not sure what I would have worn. My suggestion is to consider where your incisions are and make sure you have a few items that are easy to put on/take off and won't rub the surgical site when being worn. Stick with breathable, easy-to-clean fabrics like modal, or cotton/acrylic blends. Here are the essentials:
Pajamas: Get at least two pairs of pajamas that button up the front. I love PJ sets but if you've had a flap reconstruction, sleep shirts (like the one below) make it easy to access the chest, stomach and buttocks. Opt for dark colors so that stains aren't obvious.
https://www.victoriassecret.com/sleepwear/sleepshirts-and-nighties/supersoft-sleepshirt-body-by-victoria?ProductID=338170&CatalogueType=OLS
Robe: If you have post-operative drains, there is a robe that has interior pockets that hold them in place without pulling on the incision. It's soft and can be worn after your recovery as well. Trust me when I say it's a game-changer.
https://thebrobe.com/products/recovery-brobe
Hoodies: Contrary to popular belief, not all hoodies are created equal. I love the ones from Alternative Apparel because they zip up the front, are super soft and sustainable. (I am wearing this camo one as I write this post!) On days you feel crappy, this hoodie will keep you cozy.
http://www.alternativeapparel.com/adrian-printed-eco-fleece-zip-hoodie-09573fb#183=1990
Tank Tops: Having a few tank tops with shelf bras are ideal because they are light, easy to layer and provide support and coverage. My all-time favorite brand is Tender Tanks, which were created/designed by breast cancer survivor, Carol Largent. Tender Tanks come with handy Velcro straps so they are easy to adjust throughout the various stages of reconstruction and recovery.
Stock up on Supplies:
At some point after you get home, you will need to change your bandages. If you have drains, you will want to clean up around them until you can take a real shower. Keeping your incisions clean has a major impact on how they heal and how good or bad the scarring will be. So, make sure you have the following items at home before you head to the hospital.
Gauze
Neosporin
Alcohol
Hydrogen peroxide
Medical tape
Scissors
Cotton Rounds
Band-Aids
Pack the Pantry:
Grocery shopping after surgery is a no-go. Standing for an extended period of time and lugging heavy bags can deplete your energy and cause incisions to tear. Before surgery day, check with your doctor to see if you will have any food restrictions, and then make your grocery list. If you don't have time to go food shopping before surgery or will be in the hospital for more than 3 days, give the list to a friend or relative with instructions to do the shopping the day before you arrive home. Make sure to have a few yummy snacks in the mix. (Sometimes when you lose your appetite, you need something super scrumptious to help sustain your energy). I got a few boxes of frozen fruit pops, as they were easy to eat, yummy and helped soothe the mouth sores I had gotten from chemo.
Schedule a Blowout:
You won't be able to shower for a few days – maybe even a week! – After you get home from surgery. So it's only a matter of time before you start to feel (and smell) gnarly. Most doctors will suggest taking a sponge bath to freshen up so make sure you have a few clean hand towels ready. (Skip actual sponges as they can harbor bacteria.) If you have hair, that will be another matter. Hoda Kotb gave me great post-surgery tips (you can read more of them in my book) including her advice to schedule a wash-n-blow at your local hair salon. There is nothing that feels a good as cleaning your hair for the first time after surgery.
Hope this helps!
XO
Cait
P.S. Have any essentials to add to this list? Email and let me know. I'd love to hear from you!