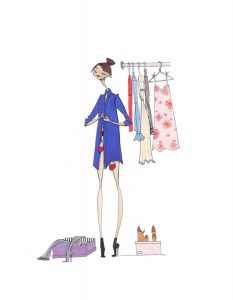 Life after cancer. I know how blessed I am to even be able to write those words. My life is a gift and I am grateful for it everyday. The thing is, life after cancer wasn't the smooth sailing I thought it would be. In hindsight, I realized I wasn't prepared for this phase of the journey. The fact is, being a "survivor" changes you – mentally, physically, and spiritually. The ripple effects can be felt for a long time.
For me, the biggest challenge was getting used to my new body. Implants, scars and weight gain wrecked havoc on my physical appearance and how I felt about my body. Accepting these things were a real challenge. When I decided to have a mastectomy, I accepted the fact that my chest would never look or feel the same again. That is just the reality of the situation. The scars, well they suck but I try to view them as badges of honor and proof of my strength rather then seeing them as flaws. This perspective saves me a lot of grief. Surprisingly, it's the weight gain that makes me feel the most disconnected and depressed.
For the first year after all of my cancer treatment was done, I had a lot of trouble dressing my post-cancer body. I know this sounds completely trivial but it really f*cked with my mojo. Every time I stared into my closet, I saw a ghost of my former self staring back at me. My clothes were tangible reminders of when I was skinny, sexy and healthy. And let's not even talk about the melt-downs I would have when I tried, unsuccessfully, to squeeze into my pre-cancer jeans.
For me it was weight gain. For some of you it might be weight loss. Either way, it sucks staring into a closet filled with clothes that don't fit. Besides taking up space, these items also create emotional clutter. Who needs that? Not us! I don't want you to go through the same torture I went through. It's just not worth your energy. Plus, there are some really easy fixes to help avoid post-cancer fashion drama. They are:
Do Spring Cleaning (No Matter What Season It Is!)
During treatment your weight will fluctuate. After, there will be a number that settles on the scale. (I can't promise you'll like that number either.) Once all the chemotherapy and steroids have had time to leave your system and your body has adjusted to any long-term meds you've been put on, then you can go into your closet and start to make space for the clothes that actually fit. I donated a lot of my clothes because I knew that I was never getting back into a size 0 or 2. If the idea of ditching your duds sends you into full-on panic mode, then don't get rid of them! Instead, pack those items into a bag or bin, and put them into storage. Getting them out of the way, even if it's temporary, makes selecting your outfits more efficient and less emotional. Talk about a win-win!
Plan Your Outfits!
At some point, I realized that my daily closet meltdowns were not serving me well. I knew that negative emotional cycle needed to end. STAT. So, one Sunday, I started planning out my week's worth of outfits. I continued to do this until I was comfortable dressing my new body. I can't tell you the time and energy this saves. Try it – you'll see for yourself.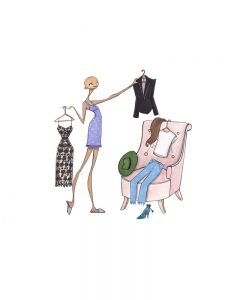 Find a Uniform
Everyone has a uniform – a go-to outfit that feels good and is flattering. I'm a baggy jeans and blazer type of girl. While it sounds pretty basic, it took me a minute (and by a minute, I mean years) to figure out my uniform. One way to avoid a fashion funk is to find your go-to get-up. Something that you can throw on – even when in a rush – that will make you look and feel like a million bucks. Don't know how? Let your figure guide you. Choose items that play up your best physical feature and start there. For example, blazers accentuate up my broad shoulders while baggy jeans are roomy enough for my bubble butt. Paired together they compliment my curvy figure and work for my vibe. It's that simple.
Let me know how it goes!!!
XO,
Cait
…Hello again! If you got all the way down here, then I'm assuming you liked what you read. Good news! There's more where that came from – including snippets of Pretty Sick: The Beauty Guide for Women with Cancer and news relevant to us Cancer Cuties. Go visit and (like!) the Pretty Sick Book FB page! https://www.facebook.com/prettysickbook/?ref=aymt_homepage_panel
Pretty Sick is out September 19th, but you can order your copy now! Just click below on the retailer of your choice!
Amazon
Barnes & Noble
IndieBound
iBooks