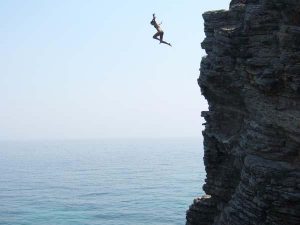 This weekend while everyone is celebrating Labor Day, I am celebrating my 4th annual Rogue-versary. WTH is a Rogue-anniversary you ask??? It's when I made some drastic changes that blew up my life. Changes that eventually made my life better than ever.
I'm going to tell you exactly what happened. But first, let me set the stage.
In 2013, when I was a beauty director of a magazine, I was diagnosed with breast cancer. This was pretty shattering but it was made worse by the fact that less than a year prior I had undergone emergency, life-threatening spinal fusion surgery. The recovery process was emotionally and physically brutal that even to this day, I consider it the scariest and most horrible time of my life. I had barely gotten my life back when I found the lump in my right breast.
If there's a silver lining to both of my medical situations is that it kept me so busy that I didn't have a lot of time to have a real meltdown. Sure I cried and freaked out a lot but I pulled my shit together and rallied when I really needed to. My life depended on it.
That resolve started to wane by the time I had reached the reconstruction phase of my cancer treatment. Just trying to keep my health in check was exhausting but my life was layered with other dramas. I had a very rocky relationship with my live-in boyfriend. We had dated for 9 years, but really only two of those years were happy and healthy. The rest were just an ongoing cycle of fighting, breaking up and getting back together. We were a messy lot.
My job wasn't any better. I had started out as a beauty editor and over the course of 10 years, I was promoted to beauty director. Toward the end of my tenure, the publishing company that owned the magazine (and several others) began consolidating the staff. The editors that were "lucky" enough to keep their jobs were then required to write for several magazines. (This is common nowadays but back then it was shocking). The thing is, this type of situation can be tolerable if – and this is a big if – your skill set or bank account are growing. Neither was my case. I felt that I was being taken advantage of and wasting precious time. But I never did anything about it.
That was until the Friday before Labor Day. The minute I got to work, my boss starting yelling at me for a story that a junior editor hadn't finished before leaving on her vacation. Even though I wasn't this editor's supervisor (my boss was!), I was held accountable for the unfinished story. The story wasn't even due until the week after the girl was expected to return. While screaming at me, my boss took off her glasses and tossed them forcibly onto her desk. Instead of landing on her desk, they flew across it hitting me in my chest – the chest that was still in the middle of being reconstructed after battling breast cancer. I calmly picked up her glasses, put them on her desk and walked out of her office. I then walked right into her boss's office and quit.
Getting flicked by a pair of glasses was the straw. In that moment, I wanted out of all of it. I was sick of being sick. I was fed-up with my boyfriend. And I was over being mistreated at work. I didn't want to be a doormat anymore. That became the moment that I started going rogue on my life. Two weeks later, while on a post-cancer treatment celebration trip to Napa, I caught my boyfriend texting his 27-year old colleague at 1am. When we returned, I found out she was more than just a colleague. So, I packed up his stuff and changed the locks to my apartment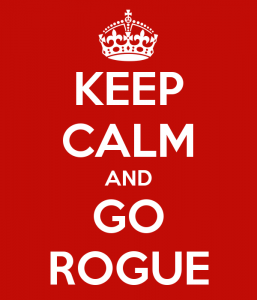 Bye-bye old life. Hello new life!
My new reality wasn't instant rainbows and unicorns. Loneliness, fear and hardship are cruel playmates. But they will show you who you really are. They made me resourceful, disciplined and determined. But most importantly, they made me grateful. Grateful for my health. Grateful for my life. Grateful for the people in my life and for those no longer in it. Grateful for work. Grateful for the roof over my head. Grateful for it all.
By letting go of all the things that defined my life, I had to start over. I pitched new editors and starting dating new people. It was scary AF but it allowed me to see my worth for the first time in my life. It's amazing how life can change for the better when you surround yourself with people who value you and respect you.
Fast forward to today. I can happily report that my life barely resembles the life I was living when I went rogue. I have a resume with all the best publications and companies on it. I am engaged to a funny, sexy, smart man. And my first book, Pretty Sick: The Beauty Guide for Women with Cancer is hitting stands this month (yay!!!!).
The other night I heard an expression that really resonated with me: "Look back to learn. Look forward to succeed." The lesson for me – and the reason I'm telling you this long story – is that going rogue, hopping the rails, switching gears – whatever you want to call it – can actually set you on the right path. The path that was intended for you. It isn't easy to make changes, especially big ones, but I truly believe the universe rewards that kind of bravery. When you put in the hard work, when you try to make yourself a better person each day, when you act out of love and empathy – the rewards are endless. I know this first hand. And that is why I celebrate my Rogue-versary because it set in motion the life I am living today. And it's one that's a helluva lot better.
My advice to you is this: If there is something in your life that isn't working, that doesn't make you feel good, that causes you suffering or dulls your shine – be brave and change it! Give yourself permission to go rogue so you can finish your journey on the right path. I promise you, you'll be glad you did.
XO,
Cait
…Hello again! If you got all the way down here, then I'm assuming you liked what you read. Good news! There's more where that came from – including snippets of Pretty Sick: The Beauty Guide for Women with Cancer and news relevant to us Cancer Cuties. Go visit and (like!) the Pretty Sick Book FB page! https://www.facebook.com/prettysickbook/?ref=aymt_homepage_panel
Pretty Sick is out September 19th, but you can order your copy now! Just click below on the retailer of your choice!
Amazon
Barnes & Noble
IndieBound
iBooks