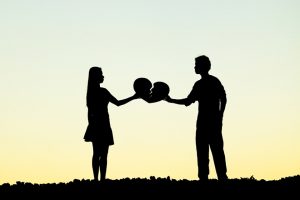 Nobody plans for a life crisis. It arrives without warning, leaving your world in a state of chaos and pain. All the plans you had get put on a shelf. This is cancer in a nutshell.
After my diagnosis, I didn't think things could get worse. That was until I realized that I might survive cancer but my relationship of 9 years wasn't going to. Apparently, things can, and often do, get worse.
I won't bore you with the details. Honestly, our relationship was never the smoothest sailing ship. But when we finally broke up, I felt a level of pain and betrayal that far exceeded those inflicted by my cancer-stricken body. Battling cancer is a bitch. But it's harder, scarier and sadder when you lose a relationship in the process. Just when I needed an unwavering supporter, someone to remind me how sassy and sexy I used to be, and would be again, that person was no longer there. I was on Survivor Island alone.
A health crisis is all-absorbing. In caring for our physical well-being, we forget to care for our relationships. We don't have an interest in sex. We take our irritable moods out on those around us. Worry keeps us up at night and on edge. Conversely, even the most loving and supportive partners/spouses crack under the pressure of being a caretaker. The bad guys, well, they just show their true colors when the going gets tough.
But here's the thing: there are some journeys that are meant for you alone. Whatever divine presence you believe in, it's their way of taking you outside of your comfort zone and positioning you for greater things. It sucks that it takes hardship for humans to grow spiritually and emotionally – but such is the case. We don't grow when we're riding the wave. It is only when we are forced to dig deep to find our strength and courage that we make the changes that are truly necessary.
The good news is that the universe rewards you for such bravery. When my guy left, I was still in the middle of reconstruction. I had two scarred breast mounds and no nipples. Needless to say, my self-esteem and femininity were in tatters. But I turned inward and for the first time, in a long time, focused on just myself. Something that seemed so selfish before became essential for my emotional survival. I used each day to better my health, pretty up my apartment and beef up my resume.
Fast-forward three years and I am happy to say that my life is like a reversal of fortunes. I am engaged to a wonderful man (a man I never would have met had I not been on this journey alone), I have my first book coming out (a project that allowed me to rethink 'loneliness' and use it to elevate my talent and career) and I am healthy, happy and grateful.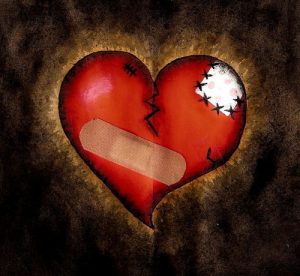 If you are facing a similar situation to the one that I experienced – a life-changing diagnosis compounded by a heart-breaking divorce/breakup – then I have some words of advice to share. Here are my top 6 tips to healing with a broken heart:
Focus on You
The time has come for you to focus on your needs. Whatever you think you need to do to find happiness and contentment, do it and do it often. I ate what I wanted. I binge-watched bad TV. And I started saying 'no' to things I didn't want to do and people that didn't improve my quality of life. It's time to find your happy.
Set Goals
Transformation doesn't happen by itself. It's imperative to visualize the goals you want to achieve and then start working toward them. Don't bite off more than you can chew or expect overnight success. That will set you up for failure and disappointment. Instead, do one or two little things each day that puts you closer to your dreams. And every night before bed remind yourself of those achievements – because that's exactly what they are.
Reward Yourself
Did you shed the 5 lbs you wanted to lose? Did you redo your resume? Did you attend the theatre by yourself (and actually enjoy it)? When you take little brave steps, you make huge strides in transforming into the person you want to be. That, in my opinion, deserves reward. Buy the shoes. Go out to dinner. Treat yourself to a massage. (And don't feel bad about it!) You earned it!
Remember your Value
There will always be haters. Its just part of life. But it doesn't mean you need to hang out with them! An important part of this journey is to take a step back and re-evaluate who you are giving your time and attention to. If someone doesn't make you feel happy, empowered or wiser, then it's time to leave them in the rear-view. You teach people how they should treat you. Set the standard.
Call on your Girl Gang
When you start to feel sad and lonely, call one of your girlfriends. They will remind you how friggin' fabulous you are (and will probably buy you a bottle of wine to boot)! How can things be really that bad with a best gal by your side? You may have lost a lover, but you still have lots of love in your life. Perspective is key to appreciating every relationship that is rewarding, positive and supportive.
Give yourself a Break
No, you're not going to get it right all of the time. Probably not even half the time. But who cares? Just consider the fact that there are 10 trillion planetary systems (10 TRILLION!!!!) in the known universe. Earth is just a fleck of dust in that mix. Anything you're stressing about doesn't matter in the grand scheme of things. Don't beat yourself up. Give yourself a break. Enjoy your life.
XO,
Cait
…Hello again! If you got all the way down here, then I'm assuming you liked what you read. Good news! There's more where that came from – including snippets of Pretty Sick: The Beauty Guide for Women with Cancer and news relevant to us Cancer Cuties. Go visit and (like!) the Pretty Sick Book FB page! https://www.facebook.com/prettysickbook/?ref=aymt_homepage_panel
Pretty Sick is out September 19th, but you can order your copy now! Just click below on the retailer of your choice!