One of the things I mentioned in my first blog entry was that I have a book coming out on September 19th. Holla!!!! The book is titled, Pretty Sick: The Beauty Guide for Women with Cancer. I'm very excited about it, as it's been 3 years in the works.
Here it is (!!!!!!!)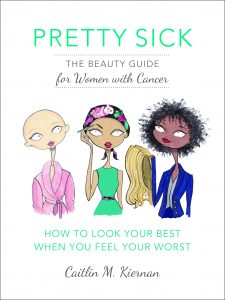 For those of you who don't know me, let me quickly explain what led me to write the book in the first place. When I was diagnosed with breast cancer at the age of 41, I was working as a beauty director for a magazine. Like many of my fellow cancer patients, I became glued to the web researching what was about to happen to my body. Naturally, I was very nervous about all the side effects because I had to continue working my full-time job to pay the bills. But no matter how much I searched, there wasn't one site, one book, one resource that had all the answers I needed.
Luckily for me, as a beauty editor, I spent most of my days interviewing the top experts in the field – hair stylists, makeup artists, dermatologists, manicurists, etc. You get the gist. So, after I was diagnosed, I turned to these pros to get all the Intel I needed to keep me looking and feeling my best during surgery and treatment. While I was very concerned about getting healthy, the reality is that I also needed to look presentable in order to do my job. The last thing I wanted to deal with was the "Are you okay?" questions. They just made me feel worse.
The thing that's so crazy about cancer is that it isn't the disease that makes you look sick. It's the treatment that does. Case in point: a bald head. This big telltale sign isn't caused by the rogue cells in your body, it's caused by the chemo that's used to kill them.
I know I was lucky to have amazing pros giving me useful tips and tricks to help me through my illness. I also know there are a lot of women out there going through what I went through with less or no resources to help them. This makes me very sad because, in some cases, there are little things that can make a huge difference offsetting or lessening the harsh side effects of treatment. That's why I decided to use my skills as a writer and put all the information I was blessed to receive in one little book. Pretty Sick is my way of paying it forward to help empower other women with cancer.
It is my wish that if you come across this blog or the book's Facebook page that you share it with someone who is fighting the battle and could use a little help. As I always say: when you look good, you feel better. I would also love to hear from you. If there are any topics or tips you'd like me to share or if you have anything that could help other patients and survivors – email me! My email is contactcaitlinkiernan@gmail.com.
Until next time,
XO
Cait